Elevate your table just in time for the Holidays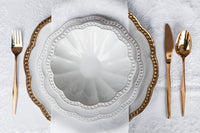 Oro - Elegant Dinner Set
Regular Price

$90.00

Sale Price

$90.00

Regular Price

Unit Price

per
Handmade by: Fasano Ceramiche
Color: White with gold and aged beaded edges
Material: Ceramic
Set Includes 3 pc.:
1 Dinner Plate: 30 cm.
1 Soup & Pasta Bowl: 19 x 5 cm.
1 Side Plate:  24 cm. 
About the Product:
Oro is a ceramic dinner set hand-made by the artisans of Fasano Ceramiche in their workshop in Grottaglie, a small town in Apulia famous for the production of pottery and ceramics.
Oro, which is the Italian word for gold, includes a soup & pasta bowl, a dinner plate and a side plate, each with a masterfully handmade beaded motif. The soup & pasta bowl is elegantly shaped as a flower, while the dinner plate distinguishes itself for its precious handmade golden band. The ceramic of each plate is highly durable and strong, yet very refined.
Metal accents like brass, gold, and copper are the latest trend in dinnerware; however, they have also a timeless appeal. Set a dreamy dinner table that lights up your home with a chic-luxury style...
The whole dinner set has a glamorous, classic, and shabby-chic look that comes from the aged edge of the side plate and bowl and the contrast between the translucence and brightness of the dinner plate. The glitter and glow of its gold lustre edging makes Oro perfect for the holiday entertaining season. It is also perfect for a striking table at a formal celebration or an elegant informal event.
NOTE: Possible imperfections are due to the handmade nature of each item.
About the Collection:
Grottaglie, in Apulia (Italy) is a renowned centre for the production of ceramics and pottery. Founded by the Greeks in the 2nd century B.C, "Kruptaie" is surrounded by rich clay deposits, huge caves, and niches dug into the tufa, which are the perfect hiding spots for large wooden ovens required for firing crockery.
In this setting, Fasano throwers, decorators, and kilnmen have been working for 18 generations to become a market leader in the manufacturing of traditional earthenware. Despite competition for industrial producers, Fasano Ceramiche still decorates each dish by hand and creates unique collections with limited editions like this one made just for dishesonly.
Care Instructions: 
Dishwasher Safe - hand washed suggested for the dinner plate if frequentely used
Do not place in microwave.