Something new is coming soon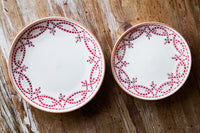 Mosaico - Hand-Painted Side Plate
Regular Price

$52.00

Sale Price

$52.00

Regular Price

Unit Price

per
Handmade by: Fasano Ceramiche
Color: Cream with Red or Brown mosaic patterns
Material: Ceramic
Dimensions: 18 cm.
---
About the Product:
Mosaico is a luxurious and authentically Italian pottery highlighted by a Classical Greek mosaic motif, adapted by the experienced craftsmen of Fasano Ceramiche into a modern "rustic-chic" effect.
Mosaico is a refined side plate for hosting inside or outdoors. The unique engraved pattern on its edge varies and it shows clear tell-tale signs of the hand-painted little tiles. The terracotta rim adds brightness and a charming accent to the trendy and elegant red and brown hues.
This hand-painted side plate comes in two different colors, red or brown, each with a different mosaic pattern.
Mosaico is part of a dinner set which includes a soup & pasta bowl and a dinner plate
; complete the
Mosaico
look with
matching dinner plates and soup & pasta bowls.
NOTE: Possible imperfections are due to the handmade nature of each item.
About the Collection:
Grottaglie, in Apulia (Italy) is a renowned centre for the production of ceramics and pottery. Founded by the Greeks in the 2nd century B.C, "Kruptaie" is surrounded by rich clay deposits, huge caves, and niches dug into the tufa, which are the perfect hiding spots for large wooden ovens required for firing crockery.
In this setting, Fasano throwers, decorators, and kilnmen have been working for 18 generations to become market leaders in the manufacturing of traditional earthenware. Despite competition from industrial producers, Fasano Ceramiche still decorates each dish by hand and creates unique collections with limited editions like this one made just for dishesonly.
Care Instructions: 
Dishwasher Safe
Do not place in microwave.