Something new is coming soon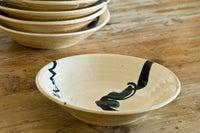 Mirò - Artistic Ceramic Soup & Pasta Bowl
Regular Price

$44.00

Sale Price

$44.00

Regular Price

Unit Price

per
Handmade by: Hans Fischer
Color: Cream with Blue decorations
Material: Ceramic
Dimensions: 21,5 x 6 cm.
---
About the Product:
The Mirò ceramic soup & pasta bowl is masterfully handmade by Hans Fischer, a German artist and craftsman acclaimed by critics worldwide.
Hans Fischer is driven by a deep knowledge of ceramics and a remarkable sense of creativity. As with all of his creations, the Mirò soup & pasta bowl is highly durable, strong, and unique. No two ceramic bowls are the same, which is a result of a slow-craft work that adds charm and authenticity to the set.
The Mirò soup & pasta bowl can suit a wide range of styles. Team it with casual cutlery and glassware or with more traditional and formal textile and dinnerware. The beautiful contrast between the rough ceramic and the bold blue can turn your everyday dining into a special occasion, adding design and flair to your table.
The Mirò soup & pasta bowl is part of a dinner set which includes a side plate and a dinner plate, all decorated with the same surrealist theme. You can also complete the Mirò look by adding the Mirò serving bowls.
NOTE: Possible imperfections are due to the handmade nature of each item.
About the Collection:
Hans is an eclectic German artist and craftsman. He refined his unique style while traveling abroad and practicing in different potteries in Italy as well as in Germany. He has been producing sculptures and ceramics for more than 30 years using the most innovative methods and techniques stemming from the best aspects of the European and International tradition.

Hans has exhibited his works in several galleries and museums in Germany, Italy, and Japan. He has received critical acclaim for many of his works and has collected many international awards. Each of his pieces is an entirely handmade artwork and is one-of-a-kind. We are proud to have the exclusive right to sell his products on dishesonly.com.

Care Instructions: 
Dishwasher Safe
No Microwave