Elevate your table just in time for the Holidays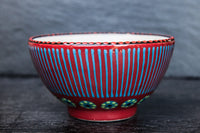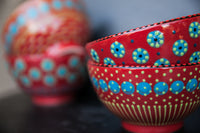 Etnico - African Inspired Ceramic Side Bowls
Regular Price

$23.00

Sale Price

$23.00

Regular Price

Unit Price

per
Handmade by: Potter's Workshop
Colors: Blue & Red with colorful decorations
Material: Ceramic
Dimensions: 13 x 7 cm.
---
About the Product:

Keeping in mind the latest international food trends and our love of stylish interior colors, we commissioned the design of a new line of bowls to our friends of Potter's Workshop, a South African studio specialized in ceramics and tableware. The result is a striking, ethnic inspired and colorful bowls collection sold exclusively by DishesOnly! In this product line dots, spots and beaded motifs reign supreme together with an explosion of colors! 
As well as the other products of the line, the Etnico side bowls come in vivid tones and color accents such as scarlet red and emerald and are painted in an ethnic "shock" style with bold colors and graphics that won't go unnoticed on your table. Enjoy mixing and matching!
Each piece is painted with the artist's particular style and signature at the bottom; size, shape and color may slightly differ.
As you can see in the first picture of this page we combined these Potter's wonderful ceramic bowls with our collection of luxurious slate platters. The result is perfect for cooking and entertaining food enthusiasts because it allows them to enhance their food presentation and create a unique and colourful dining experience.
About the Collection:
Potter's Workshop is a South African artisan studio renowned for its ability to create tableware with extraordinary pops of color and signature beaded patterns. Inspired by indigenous art and entirely sculpted and painted by hand, each dish produced in studio is by itself an incredible collector's piece, but also is perfect for everyday use.
The flower range product line is the perfect example of Potter's maniacal attention to detail and high quality craftsmanship. Look at each bowls's elegant decorations and admire the delicacy of the shapes and the lightness of the ceramic.
Care Instructions:
Dishwasher Safe
Microwave Safe